Costa Blanca
Guide to the Costa Blanca region of Spain and its towns and villages.
Guide to the Costa Blanca Spain
The Costa Blanca - Over 200 kilometres of coastline, a large hinterland, ancient cities, modern tourist resorts and a long and rich history - this is the Costa Blanca ("White Coast"), situated on the south-eastern coast of Spain's Mediterranean coastline. The Costa Blanca is a hugely popular holiday destination for millions of tourists each year (over 4 million visit Benidorm alone), particularly North Europeans and of course the Spanish themselves who flock to the Costa Blanca from the inland cities, such as Madrid, during the summer months.
Whilst the vast majority of visitors to the Costa Blanca are seeking sun, sea, sand and sangria, those who care to look a little more carefully will discover that the Costa Blanca has much more to offer than this. The glitzy resorts such as Benidorm, though offering a fantastic variety of entertainment for all ages, represent just a small part of what is on offer to the discerning tourist.
The Costa Blanca has plenty of unspoilt countryside to explore and numerous, quaint hilltop villages, where life continues much as it has for centuries. There are many Natural Parks to visit boasting some unique and rare species of flora and fauna. There are a number of ancient cities to discover and explore, many with histories stretching back to the Roman times and beyond - Alicante, Denia, Orihuela and Elche to name but a few.
The list of places to see and things to do on the Costa Blanca is endless, why not enjoy one of the many street markets? (you will find one somewhere any day of the week), perhaps you would like to pop into a tapas bar and taste a couple of the uniquely Spanish dishes on offer. The more adventurous may wish to explore a cave (try the Caves of Canelobre) or take some photos of a beautiful waterfall (such as the Fuentes de Algar), have some fun and join the locals at one of the many fiestas (held all year but more frequently during the summer months).
In the hot summer months take a boat trip and marvel at the spectacular coastline whilst enjoying a cooling breeze, or maybe buy a fishing rod and join the Spanish in one of their favourite pastimes. If water sports is your "thing", you will not be disappointed, there are some great locations for wind-surfing, jet-skiing, scuba diving and sailing.
All in all the Costa Blanca has something to offer visitors of all ages, tastes and nationalities. Feel free to explore this website and learn in more detail the history and culture of the Costa Blanca. Click on the relevant links to learn more.
Costa Blanca Places:
Albir: Situated between Benidorm and Altea on the northern Costa Blanca, Albir is a more tranquil resort, popular for laid bacl holidays in the sun. Originally a Moorish settlement, Albir's popularity as a holiday resort grew with the rise of Benidorm in the 1950's and 1960's.....more: Albir (Map - Weather).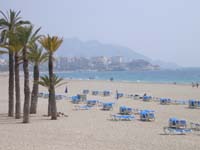 Algorfa - One of the charming Costa Blanca villages to the south of Alicante, Algorfa is located beside the Segura River just inland from the popular coastal town of Guardamar del Segura, and close to the villages of Almoradi, Daya Nueva and Benejuzar.
Alicante: Alicante has a long and distinguished history stretching back some 7,000 years to when the first hunter gatherers arrived there from Central Europe between 5000BC and 3000BC.....more: Alicante.
Almoradi: Originally called Amarión, Almoradi was allegedly founded in 1196 BC by king Brigo and it was the location of settlements of Greeks, Carthaginians, Romans, Visigoths and Moors.....more: Almoradi.
Altea: With its best known landmark being the blue and white domed church (Church of Virgen del Consuleo), Altea is an attractive and picturesque town with a history going back many centuries.....more: Altea.
Benidorm: The biggest resort on the Costa Blanca, Benidorm is also the most visited seaside resort in Europe, with over 4 million visitors per year. It has fantastic beaches, splendid weather conditions, superb theme parks and attractions, and wonderful entertainment and nightlife.....more: Benidorm.
Cabo Roig: Located on the Orihuela Costa section of the southern Costa Blanca, Cabo Roig is one of the most popular coastal resorts in this region, it has 2 fine sandy beaches and a good selection of bars and restaurants along its renowned "strip"......more: Cabo Roig Costa Blanca Info (See an Extensive Guide to Cabo Roig Here).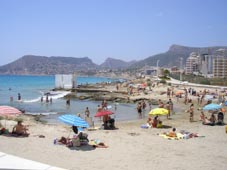 Calpe: Located between the resorts of Benidorm and Javea, Calpe is another of the Costa Blanca's most popular coastal resorts, it has a large choice of hotels and rental accommodation, and some fine beaches. Calpe is also the location of the Penon de Ifach rock.....more: Calpe.
Campoamor: Situated just south and now pretty much joined to Cabo Roig, Campoamor is well known for its sandy beaches and its fine marina. Perhaps more popular with Spanish visitors....more: Campoamor.
Denia: The northernmost of the main Costa Blanca resorts Denia is a desirable holiday destination and has a large British expat community. Plenty of beaches in this area, a good choice for a holiday.....more: Denia.
Elche: One of the oldest and biggest cities on the Costa Blanca, Elche is famous for its shoes, its palm forest and its Moorish monuments. The first city was Iberian but many other civilisations settled there over the centuries.
El Campello: Another coastal resort with miles of sandy beaches, El Campello is situated to the north-east of Alicante, this former fishing village is now popular with holidaymakers..... more: El Campello.
Guardamar del Segura: A historic coastal town to the north of Torrevieja, Guardamar del Segura is best known for its miles of golden, sandy beaches, and is considerable areas of wooded parkland......more: Guardamar del Segura.
Javea: One of the northernmost of the Costa Blanca resorts, Javea is located just south of Denia and is another popular holiday destination, with a huge range of holiday villas available to rent. The town has a long history and you can read lots more about it here: Javea.
La Marina: Just to the south of the nature reserve and salt lakes of Santa Pola, the old town, beaches and urbanizations of La Marina are a popular area for holidays and for holiday homes. The sandy beaches of La Marina extend for some kilometres and the area is popular with kite flyers...... more: La Marina.
La Mata: Situated to the north of Torrevieja, the smaller town and coastal resort of La Mata is a charming little place with some decent beaches and most of the facilities you would need for a holiday. backed by a large salt lake and natural park, La Mata is a little different from.......more: La Mata.
La Zenia: Located between Cabo Roig and Playa Flamenca on the Orihuela Costa, southern Costa Blanca, La Zenia has a fine sandy beach, a top class hotel (The La Zenia Hotel), and some good facilities, including the famous Paddy's Point pub. La Zenia is the main exit junction for the Orihuela Costa from the AP-7 motorway.....more: La Zenia.
Los Balcones - Situated to the south of Torrevieja, the urbanization of Los Balcones has developed around the southern shores of the Torrevieja Salt Lagoon, it is a mostly residential area with a commercial centre called the Filton Centre. Los Balcones is close to junction 758 of the Ap-7 motorway...... more: Los Balcones
Los Montesinos: Located on the northern shore of the Torrevieja salt lake, the small town of Los Montesinos has a long history which goes back to the times when an important Roman road ran through the town on its way to Cartagena. Recent development have given the town a newer feel, though its retains its traditional Spanish traditions..... more: Los Montesinos.
Mil Palmeras: The most southerly of the Orihuela Costa resorts, Mil Palmeras has a fine sandy beach and a number of peaceful urbanizations, where you can purchase or rent a holiday home. Mil Palmeras is handy for the airport at San Javier and has good road connections with the Mar Menor and the rest of the Costa Blanca.....more: Mil Palmeras.
Moraira: One of the least spoilt coastal resorts on the northern Costa Blanca, Moraira is a little off the beaten track which has helped it to retain its Spanish feel. Moraira has a fine marina and some decent sandy beaches, it benefits from good weather throughout the year, with winter temperatures kept mild by its hseltered position. Moraira.
Novelda: One of the Costa Blanca's interesting inland towns, Novelda is famous for its marble, its saffron and its grapes. Novelda is also notable for its Moorish castle of Mola and its Modernista Santurio de Santa maria Magdalena.....more: Novelda.
Ondara: A small town and municipality of the Comunidad de Valencia, Ondara is located in the foothills of the Sierra de Segária and has a population of just over 6,000.....more: Ondara.
Playa Flamenca: Another of the popular Orihuela Costa resorts, Playa Flamenca attracts thousands of visitors each year, it has a couple of terrific sandy beaches fine weather and lots of facilities and entertainment. The Flamenca Beach commercial centre and the Via Park 1 & 2 centres are where the majority of bars and restaurants are located......more: Playa Flamenca.
Punta Prima: Located at the northern end of the Orihuela Costa, on the Costa Blanca, Spain, Punta Prima is a popular holiday spot with some excellent sandy beaches and a strip of shops, bars restaurants and banks, along the N-332 coast road....more: Punta Prima.
Rojales: A traditional Spanish town in the Vega Baja region, Rojales is situated just inland from the coastal town of Guardamar del Segura and is well known for its cave houses, carved into soft rock just outside the town.....more: Rojales.
San Fulgencio: Located just north of Rojales on the southern Costa Blanca, the traditional village of San Fulgencio is now almost joined to the modern development of La Marina, which threatens to swallow it up completely. San Fulgencio is a relatively new village, starting life only in the 18th century.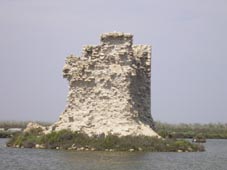 Santa Pola - Located to the south of Alicante, the town and port of Santa Pola has become a popular holiday resort, used primarily by the Spanish themselves. The beaches of Santa Pola stretch for miles and there is always plenty of space, though the Spanish seem to like to pack themselves in close to the sea. Santa Pola has a large marina which berths some 500 vessels, its port has a history going back many centuries.....more: Santa Pola.
Sucina: Officially part of the Costa Calida, Sucina is however located close to the towns of Pilar de la Horadada and Campoverde on the southern Costa Blanca.....more: Sucina (Map).
Torre de la Horadada: The coastal section of the town of Pilar de la Horadada, Torre de la Horadada is the location of the old watchtower, built to defend the town from pirate attacks many centuries ago. It is also where the marina is located with over five hundred mooring spaces.....more: Torre de la Horadada.
Torrevieja: A busy Spanish town and coastal resort, Torrevieja comes alive in the summer time when thousands of visitors arrive from the oppressively hot Madrid for their summer vacation. Torrevieja has a water park, decent shopping and lots of beaches.....more: Torrevieja.
Villajoyosa: Situated between Alicante and Benidorm, Villajoyosa is famous for its chocolate factory and its multi-coloured seafront houses, it is also quite popular as a holiday destination and much quieter than its brash neighbour, Benidorm.....more: Villajoyosa.
Villamartin - Both a championship golf course, and a large residencial urbanization, Villamartin is a popular area for holiday homes and relocation. The golf course is located beside the 2 other Orihuela Costa courses - Las Ramblas and Campoamor Golf......more: Villamartin (Latest Weather).
Zeniamar: Not a town but a large urbanization, Zeniamar is located on the Orihuela Costa, sandwiched between Punta Prima and Playa Flamenca. Its high quality build and pleasant landscaped pool areas make it popular with visitors.....more: Zeniamar.
Map of Costa Blanca: Map of Costa Blanca.
More Places: Ibi - Torrevieja - Benidorm - Denia